0-999,9Ω Programmable resistor decade board with step of 0,1Ω and Maximum power rating up to 10W
The device can be adjusted to desired resistance value by 8 digital inputs (5V logic levels, maximum 24V). It is possible to use a microcontroller, such as Arduino. In the photos, you can see the product connected to National Instruments VirtualBench (not included with the product. We can send you a compatible LabVIEW application for control via PC for FREE upon request.)
Easy mounting on DIN rail racks with integrated mounting system.  
We specialize in custom electronics development. If you need a variation of this product or would like to have the programmable resistor decade board integrated in a larger device, please contact us.
Basic price: 20.000DKK excl. VAT
Ask us if you have any questions about the product.
Specifications
Output resistance (J1)

Resistance between J1 terminals is calculated as: Rtot = V x 100R + X x 10R + Y x 1R + Z x 0,1R

Where V, X, Y, Z are the multipliers for the individual decades.

0-999,9Ω +-1%

Maximum power rating for 100R, 10R, 1R decades

10W

Maximum power rating for 0,1R decade

2W

Maximum current through J1 - Constant Resistance

2,5Arms

Maximum current through J1. Resistance is switched

1Arms

Maximum voltage between J1 terminals and GND

 230Vrms

Power supply J2

24VDC +-5%, max. 200mA

Control signals J3. Nominal input voltage

5V logic level. 22kΩ pull up to 5V

Maximum input voltage

24V. Iin @24V 1,7mA

Cooling fans start temperature (board surface)

~70

o

C

Maximum ambient temperature

40

o

C

Mounting

DIN rail 32/35

Dimensions l x b x h(above DIN rail)

403 x 126 x 69 mm
 The decade board should be placed with adequate space around, bearing in mind that the total power dissipation can reach 20W.
---
Control interface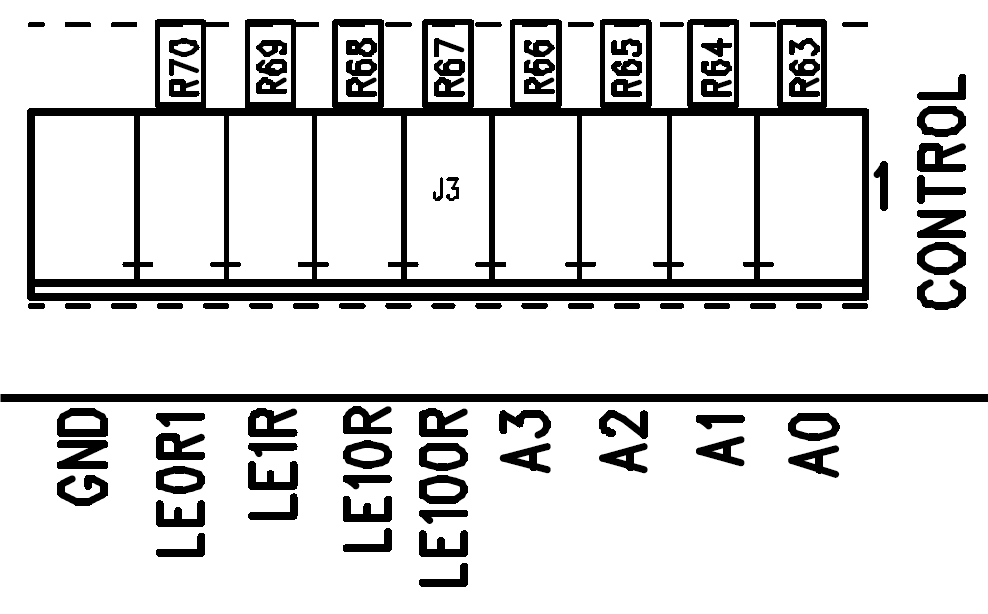 Address input
A3 A2 A1 A0 
Multiplier
0
0
1
1
2
2
3
3
4
4
5
5
6
6
7
7
8
8
9
9
A
9
B
9
C
9
D
9
E
9
F
9
    LEx = HI: Latch is transparent. Multiplier follows address.
    LEx = LO: Multiplier is locked to address present in the moment LEx is set LO.
Board Layout